There's no formula for stopping pollution.
When Waterkeeper officially started in 2001, Mark and Krystyn approached each case by going out and meeting with community members. They heard the stories, investigated the situation, and started the process in testing the legal system. Sometimes, the case ended up in court. Sometimes it didn't. Sometimes we saw the court rule in our favour, and unfortunately, sometimes the court didn't.
Having worked for Waterkeeper / Swim Drink Fish Canada and having been part of the behind the scenes activities, I can tell you in most cases, it takes a team of people to take on pollution cases. The research required, the analysis, the application of environmental laws, the written submissions and presentations, and the follow up to help public awareness and encourage public participation... The whole process may take weeks, months, or even years.
But the team at Waterkeeper aren't the only ones working for swimmable drinkable fishable water. There are thousands of people around the watershed working hard for the water they love.
That's something that's often missed: the real heroes behind the headlines, the community members. The people who took the initiative to do more for their community. The people who tirelessly dedicate their free time to protecting their community.
Waterkeeper has had the opportunity to work with hundreds of people who want to do more for their watershed. That's why, on the week of our 15th anniversary, we're turning the spotlight on them.
I asked our Waterkeeper Mark Mattson to look back at his experiences as Lake Ontario's first Waterkeeper. He recalled a few examples of individuals who wanted more for their waters and worked hard to make it happen:
Hamilton Harbour
Dr. Lynda Lukasik helped start Lake Ontario Waterkeeper. Prior to Waterkeeper, Lynda worked with me on a Hamilton landfill pollution case and the Redhill Creek Expressway. Following her private prosecution of Hamilton pollution, Lynda started Environment Hamilton which has emerged as an effective and powerful local organization protecting air and water in the western basin of Lake Ontario.
Port Hope and nuclear waste
Sanford Haskill comes from a family that has been on the shores of Lake Ontario for over 200 years. The road beside his property is Haskel Road. Sanford and his wife, Helen have been strong protectors of the lake all of their lives. Their advocacy has its roots in the nuclear dump built just upstream from their property that contaminated Brandt Creek and killed neighbouring cattle. The Haskills attended hundreds of meetings and hearings since holding the nuclear industry accountable and ensuring that Lake Ontario and Port Hope's community are not victims again.
Pat and Tom Lawson are also established and recognized civic leaders in Port Hope. Pat and Tom worked tirelessly to protect their community from an old and polluting nuclear fuel fabrication plant and its waste sites around Port Hope. When Pat passed away earlier this year, we were all deeply saddened. Every hearing, public meeting, and community meeting was attended by the Lawsons who brought detailed research and focus to the issues. Port Hope would not have the $1.2-billion cleanup it is currently undergoing if it wasn't for this family. And to think, Pat Lawson's environmental roots started with swimming on Port Hope's beach as a young girl.
Kingston Sewage
Colin Mosier's family dates back over 200 years on Wolfe Island. He works at his father's family garage on Wolfe Island. He's also a lifelong fisherman and hunter. Colin was the first on Wolfe Island to work with Waterkeeper to document the Kingston sewage crisis which was not only making water unfit for swimming and drinking but also leaving condoms, needles, and plastics on the shoreline making it unfit for children to play unattended. Colin's timely action after rains and sewage releases led to Kingston upgrading its facilities and reducing pollution greatly. He has also become our local captain of the Angus Bruce and is a vital part of our Swim Drink Fish community.
Oshawa Marina
Larry Ladd is an autoworker and resident of Oshawa. He loves boating on Lake Ontario. Larry belonged to the Oshawa Marina and was the leader in fighting the federal government for closing the marina and turning over the polluted lands to the Port Authority. Larry investigated and uncovered incredible pollution left over from old industrial waste sites at the mouth of the Montgomery and Oshawa Creek. His work alerted authorities to the dangers and toxins in the water. He tried to get the waste sites cleaned up but instead, the government closed his marina. The city is working to this day to re-open the harbour for local residents.
These are just five examples from the past where community members took it upon themselves to do more for their waters. Today, the number of people working for swimmable drinkable fishable water is growing at an incredible rate.
Marilyn Bell, Tanis Rideout, Sarah Harmer, Gord Downie, Dave Bidini, Edward Burtynsky, Jennifer Baichwal, Nick DePencier, Michael Adamson, Barbara Cole – well-known artists and well-loved Canadians using their influence to bring more attention to important issues, not only to help communities, but because these are issues that are important to them.
Waterkeeper's Board members and stewards are another group of impressive individuals. They come from all sorts of important sectors: media, banking, the arts, and telecommunications. They each share the Swim Drink Fish vision and dedicate their time and talents to support swimmable drinkable fishable water whenever needed.
Looking at communities around the watershed, David Clark and the Toronto Urban Fishing Ambassadors; Antonio Lennert and Surf the Greats; Larry Covero and Surf Dreams Canada; David Macdonald and the Water Access Group; and Loren King, Madhu Nagaraja, and the Great Lakes Trust – are just some of the many examples of community organizations encouraging people to go out and connect with the lake. As Mark said about Pat Lawson, forming that initial connection with the lake can have a tremendous impact on someone's relationship with water.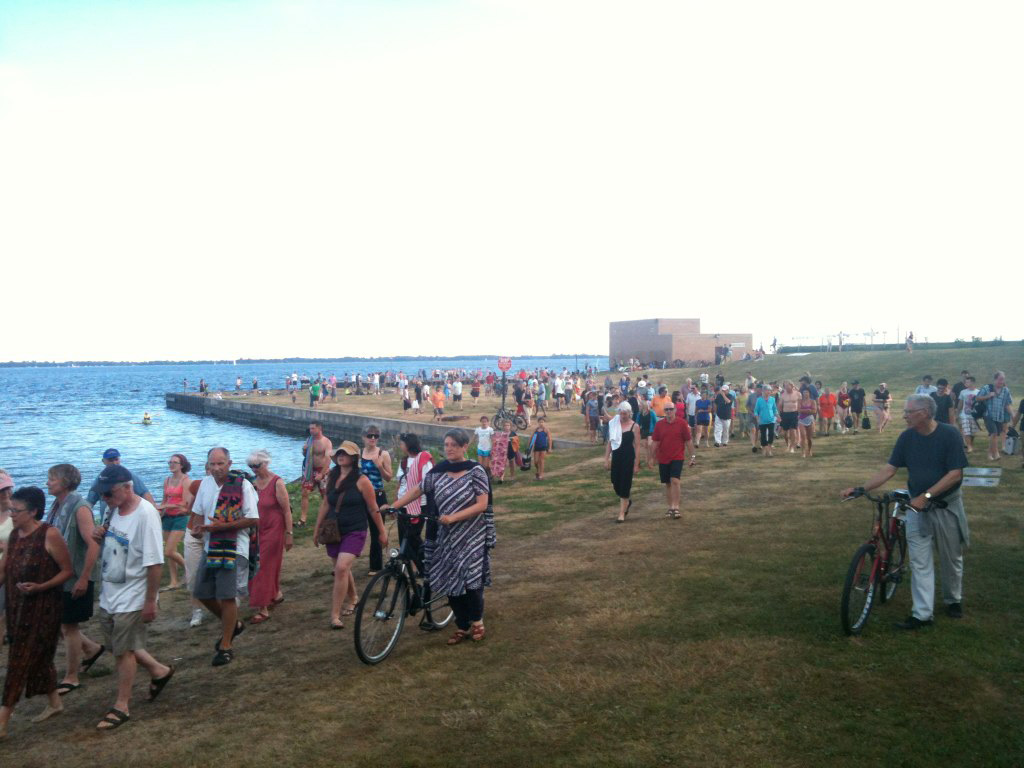 And we can't forget our financial supporters. Shari Austin and the RBC's Blue Water Project; Blair and Kathy McKeil and McKeil Marine; Peter Mattson and Lassonde; and more recently, Muskoka Brewery, Evergreen, MEC, and Patagonia supported our work in Toronto's harbour. These businesses saw something in the Swim Drink Fish narrative that fits into their corporate values.
The list really does go on.
All of these people, organizations, and businesses have put their reputations on the line. They believe working for water is worth their time because they believe a swimmable drinkable fishable future is possible.
And this network certainly isn't limited to Lake Ontario's watershed. Fraser Riverkeeper, North Saskatchewan Riverkeeper, Ottawa Riverkeeper, and the Fundy Baykeeper continue to monitor and protect Canadians' rights to clean water.
Through Swim Guide, a million people who want swimmable drinkable fishable water have tapped in and refer to the service before jumping in. Those who want to take the next step for their communities have become Swim Guide Affiliates, ensuring water quality information is available for their local beaches.
Through the Watermark Project, 1,200 unique stories have been submitted to the archive since we launched the project earlier this year. These stories that will serve as records, helping protect waterbodies from future threats.
All of this is how a clean water future will be achieved. Not just through one organization going out and taking polluters to court. But through a network of people working together for swimmable drinkable fishable water. After working for water for 15 years, we still believe that a clean water future is possible. And it's the network that will make it happen.
hamilton harbour, Port Hope, nuclear waste, kingston, Oshawa Marina, Toronto Urban Fishing Ambassadors, Surf the greats, Surf Dreams Canada, Water Access Group, Great Lakes Trust, RBC Blue Water Project, McKeil Marine, Muskoka Brewery, Evergreen, MEC, Patagonia, Fraser Riverkeeper, North Saskatchewan Riverkeeper, Ottawa Riverkeeper, Fundy Baykeeper, Swim Guide, watermark